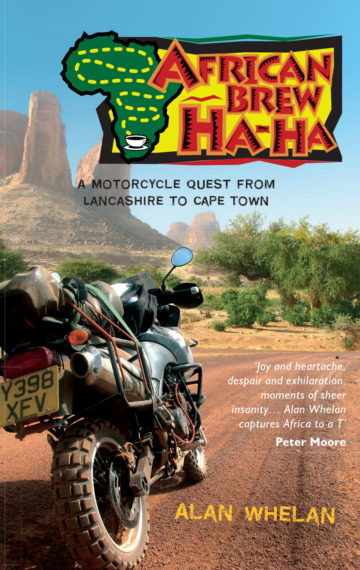 £8.99
Publisher:

Summersdale

Available in:

Paperback, Kindle

ISBN:

978-1849530446
Buy the paperback
Buy it on Kindle
African Brew Ha-Ha is about my motorcycle quest to find the ultimate cup of tea on a solo trip through Africa – Lancashire to Cape Town on a Triumph Tiger.
Back cover blurb
Tea-drinking is a ritual that binds people together. Alan Whelan was on a unique quest: to find the people at the hidden heart of Africa… and sit down for a nice cup of tea with them. On the 14,000-mile solo journey through Morocco, Mauritania, Mali and all the way to Cape Town across deserts and the toughest roads imaginable, he met sporting legends and ministers, peacekeepers and outlaws, and countless people who shared their last morsel of food with him.
Armed with little more than blind optimism, he experienced a jaw-dropping ride. Uplifting, insightful and funny, this is the story of one man's determination through the most physically and emotionally challenging five months of his life.
I wrote a blog about the trip (and subsequent trips) here